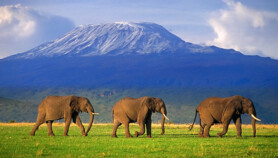 Posted on April 6, 2014 by admin in Destination Spotlight

The largest country in East Africa, Tanzania is an active traveler's paradise. It is home to 15 national parks, 31 game reserves, Mt Kilimanjaro, the world's highest free standing mountain, and 7 World Heritage Sites, including Ngorungoro Crater which is often referred to as the "8th Natural Wonder of the World". Adventure options include mountain […]

No Comments. Continue Reading...